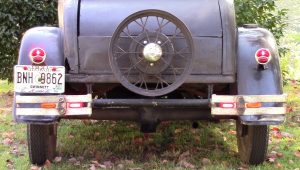 You want to do everything you can to protect your antique vehicle when you take her out for a drive in this fast paced world. Maybe you have an antique car, truck, military, or other unique vehicle. When other drivers see it, the last thing they are looking at is your tiny, weak, century old brake lights – until it is too late! The super bright LED technology in Logo Lites Brake & Run add-on brake lights help other drivers to see your tail and brake lights sooner. Because of their small profile and stainless steel brackets, they look right at home on antique vehicles. Yet their red LEDs are extremely eye catching compared to the bulbs of yesteryear.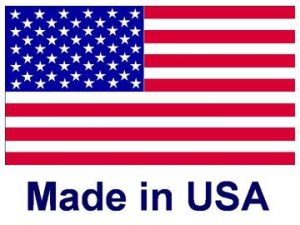 Brake & Run works on 6V & 12V negative and positive ground electrical systems. Not only do you get add-on bright brake lights, but Brake & Run also dims to provide running lights for night time and bad weather driving. The kits come with your choice of Bumper Brackets for Model A Fords and other antiques with similar two piece rear bumpers, or Universal Brackets for just about any vehicle. To learn more about the mounting brackets see Logo Lites mounting options.
Electrically, Brake & Run is very friendly to antique and electrical systems. Additionally, it is also well suited for battery only power when an alternator or generator is not available. At full brightness with the brakes applied, this system draws less than 1 Amp of current on 6V and less than 1/2 Amp on 12V installations. It will not drain your battery down when the lights are off either. Current draw with the lights off is less than 0.000005 Amps!
Logo Lites Brake & Run add-on brake lights are easy to install in just about any antique vehicle with two mounting screws and just six wires to connect to the electrical system. For Model A Ford owners, the controller can mount directly to an A-Plate. Using an A-Plate, Brake & Run installs and is ready to use in less than an hour without hassles.
If you ever take your antique car, truck, military vehicle, off-road equipment, cart or carriage on the open road then you want the eye catching red LED lights of Brake & Run. The safety of you, your passengers, and your rare antique are worth it. Don't delay, order Brake & Run today!
Order Online
Highlights
Specs
Videos
Manuals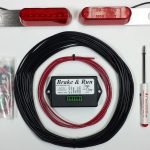 Click for larger image
Logo Lites Brake & Run
Price: $149.95
Description: One Brake & Run Kit with 2 Red Bumper Brackets
Item Number: 236-621
---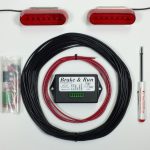 Click for larger image
Logo Lites Brake & Run
Price: $159.95
Description: One Brake & Run Kit with 2 Red Universal Brackets
Item Number: 236-622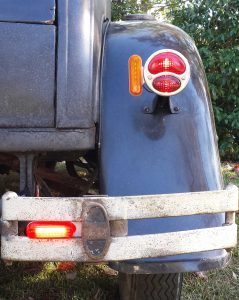 Easy installation
Add-on Brake Lights
Running Lights
Eye catching Red LEDs to alert other drivers
Low current draw
Requires no permanent modifications to vehicle
Hardware and supply wires included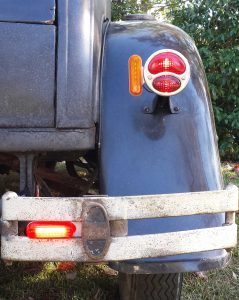 6V or 12V
Positive or Negative Ground electrical systems with no wiring changes
Draws less than 1 Amp of current when on
Draws less than 0.000005 Amp of current when off (will not drain your battery)
Control box size is approximately 3.9×2.1×1.0″ (~99x53x25mm)

Prop 65 Warning