Headlight Supply Issues:
LED Headlights are temporarily unavailable due to COVID-19 pandemic supply chain related issues. We will continue manufacturing LED Headlights, but the manufacturing world for high tech products is a mess. When one supply chain opens up, others have issues or gigantic backlogs to content with. Our materials suppliers assure us the situation is improving. We thank you for your patience and look forward to continuing to provide LED Headlight solutions in the future.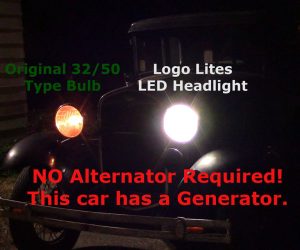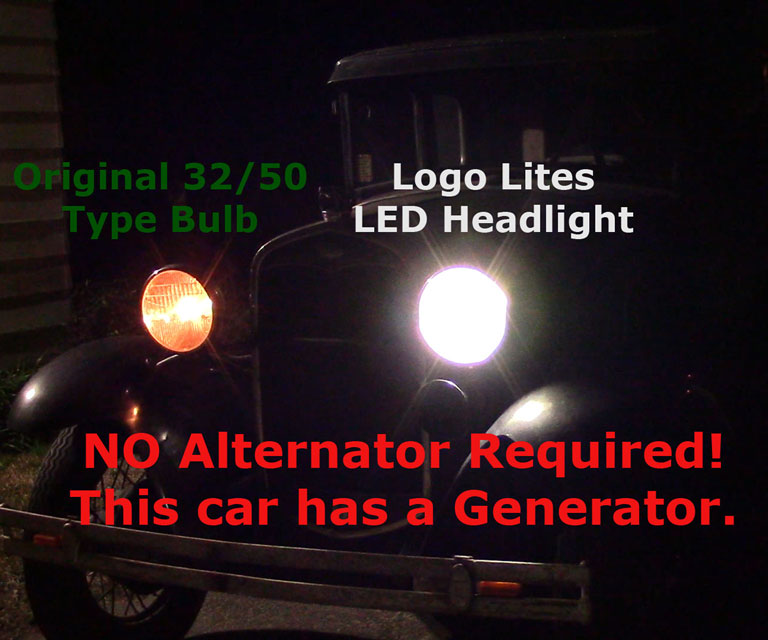 Now you can have bright, white LED headlights for your antique vehicle!
Logo Lites bright white LED Headlight bulbs fit into the original headlight socket. NO MODIFICATIONS! You do not have to replace the socket, harness, reflector, or make any other changes to your car. Your car can continue to use an original style generator or an alternator. Dim old bulbs are replaced with bright LED Headlight bulbs in seconds. Open your headlight and then simply twist to remove your original bulbs, then insert, twist, and now you have bright, white LED headlights as bright as a modern car!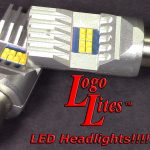 Logo Lites LED Headlight bulbs work on Model A Fords and many other cars that use the 21/21 CP (1110), 32/32 CP (1000), 32/50 CP type bulbs.
HEADLIGHT FOCUS: The LEDs emit from the same location as the original filaments, so the headlights can be focused just like the originals!
Like most Logo Lites products, our LED Headlight bulbs are engineered so the same bulb is used on 6 Volt or 12 Volt vehicles. They work on Positive ground and Negative ground (chassis), without any changes. Simply insert the LED Headlight bulb in place of your original bulb and reassemble your headlight. Logo Lites makes it that easy!
LED Headlight Installation and Demonstration
This video shows how quickly you can change from an original incandescent bulb to a Logo Lites LED Headlight bulb. Then there are dramatic demonstrations of how much better the LED Headlight bulb is compared to the 32/50 CP bulb it replaces. Click to watch:
Definitely fits these vehicles:
Ford Model T 1919-1927
Ford Model A 1928-1931
Ford Model B 1932-1934
Chevrolet Pickup 1936
Hudson 1926-1928
Yes! You can have have bright, white, LED Headlights and continue to use your original generator! Halogens draw so much current, they require an alternator and you have to change your sockets, headlight harness, and modify or replace your reflectors. Original bulbs use less current than halogens (3.6A low/4.5A high per bulb for the 32/50 CP). But original bulbs are dim and orange by today's standards. Logo Lites LED Headlight bulbs draw much less current (0.8A low/1.4A high). They also put out as much bright white light as a modern day halogen headlight. This is the bulb you have been waiting for!
Typical install time: 1 minute
Highlights
Specs
Manuals
Order Online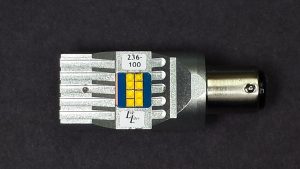 Super bright white like a modern halogen
Easy installation
Fast installation
Low current draw
Requires no modifications to vehicle
The same LED Headlight bulb works for 6V-12V +/-Chassis vehicles
Logo Lites bright, white LED Headlight bulb specifications:
6V, 8V, 12V
Positive or Negative Ground (chassis) electrical systems with no wiring changes
Generator or Alternator
Color is ~6500K (Bright White)
Low beams draw 0.8A typ @ 6.3V (versus 3.6A typ for 1110/13007D type incandescent bulb)
High beams draw 1.4A typ @ 6.3V (versus 4.5A typ for 1110/13007D type incandescent bulb)
The same LED Headlight bulb works for 6V-12V +/-Chassis vehicles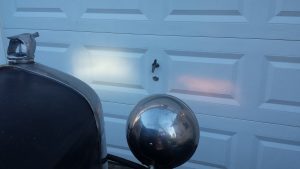 Even viewed during the day, LED Headlights are dramatically brighter. Logo Lites LED Headlight bulb on left, original type 32/50 CP incandescent bulb on right.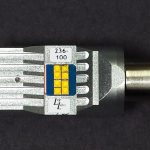 Click for larger image
Logo Lites LED Headlight Bulb
Due to Covid-19 induced supply chain issues (aluminum foundries, LEDs, circuit boards, etc), LED Headlight Bulbs are BACK ORDERED until approximately 09/14/2020. You may order now and it will be fulfilled as soon as possible.
Price: $29.95
Description: One LED Headlight Bulb for 6V-12V +/-Chassis
Item Number: 236-100

Prop 65 Warning