Focused Beam LED Headlights
Bright White Focused Beam LED Headlight Bulbs for Antique Cars and Trucks
Logo Lites bright white Focused Beam LED Headlight bulbs fit into the original headlight socket with
NO MODIFICATIONS!
You do not have to replace the socket, harness, reflector, or make any other changes to your car. Just like our
Original LED Headlights
, Focused Beam LED Headlights will work with an original style
generator or an alternator
. Dim old bulbs are replaced with bright Focused Beam LED Headlight bulbs in seconds. Open your headlight and then simply twist to remove your original bulbs, then insert, twist, and now you have brilliant, white LED headlights as bright as a modern car!
Logo Lites Focused Beam LED Headlights feature a built-in lens to focus the bright white LEDs on the road in front of the car and not in the oncoming driver's eyes. Use your original headlight lenses in front of the replacement bulbs. There is no need to polish the original headlight reflectors because the Focused Beam LED Headlights do not use the reflectors. In fact, there is no need for you to focus the headlights. The bulb lenses are focused at the factory and work with the headlight's Fresnel lens to produce a modern type of beam pattern on the road.
True Low and High Beams
With Logo Lites Focused Beam LED headlights, you get a true low beam and high beam feature for your antique car or truck. The original incandescent bulbs had two filaments in the same location. Changing from low to high beam increased the light output, but the original focus pattern change was negligible. Logo Lites Focused Beam LED Headlights incorporate internal light elements which are focused in different directions. Low beams are focused on the ground in front of the vehicle. High beams add a second set of light emitters at a higher angle for distance viewing, without sacrificing close up light.
Logo Lites LED Headlight bulbs work on Model A Fords and many other cars that use the 21/21 CP (1110), 32/32 CP (1000), 32/50 CP type incandescent bulbs. Like most Logo Lites products, our LED Headlight bulbs are engineered so the same bulb is used on 6 Volt through 12 Volt vehicles (yes, even 8 Volt). The same bulb works for both Positive ground and Negative ground (chassis) vehicles.
Focused Beam LED Headlight Installation and Demonstration
We made a new video like our Original LED Headlights video, but this one features more about the fantastic Focused Beam feature. See how quickly you can change from an original incandescent bulb to a Logo Lites Focused Beam LED Headlight bulb. There is also a short driving demonstration comparing the original 32/50 CP incandescent with the Focused Beam LED Headlight. Click to watch:
Typical install time: 1 minute
Order Online
Highlights
Specs
Manuals
Logo Lites Focused Beam LED Headlight Bulb
Price: $49.95
Description: One Focused Beam LED Headlight Bulb for 6V-12V +/- Positive/Negative Chassis/Ground
Item Number: 236-103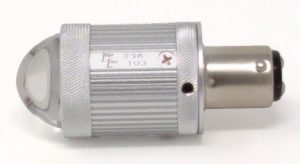 Super bright white like a modern halogen
Easy installation
Fast installation
Low current draw
Requires no modifications to vehicle
Plugs into original type bulb socket
The same bulb works for + and – chassis ground and 6V-12V vehicles
6V, 8V, 12V
Positive or Negative Ground (chassis)
No wiring changes to your car
Plugs into original type bulb socket
Generator or Alternator
Color is ~6500K (Bright White)
Low beams draw 1.3A typ @ 6.3V (versus 3.6A typ for 1110/13007D type incandescent bulb)
High beams draw 1.3A typ @ 6.3V (versus 4.5A typ for 1110/13007D type incandescent bulb)

Prop 65 Warning