Automatic 6V USB Charge Port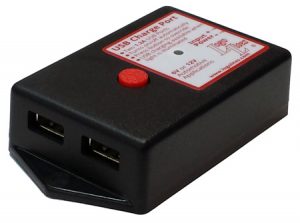 NO ignition or power switch is required!
Detects when engine is running – turns on and off automatically!
Now you can power and charge two USB devices while you drive your antique car or truck. Logo Lites USB Charge Port works with 6V and 12V electrical systems. Its sophisticated electronics sense when the engine starts and turns on the power to your phone, tablet, GPS navigation system, or other USB powered devices. When you turn off your vehicle, it shuts down the charge ports automatically too, so it won't drain your battery. No ignition switch connection is necessary – the Logo Lites USB Charge Port uses battery voltage and ignition noise to turn on (or off) automatically, so you don't have to hook up a switch at all. But if you do need to run your devices with the engine off, there is an emergency override button that turns on the charge ports for two hours when the vehicle is turned off.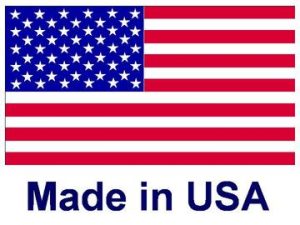 Logo Lites USB Charge Port provides two independent "Dedicated Charge Ports" which are compatible with all the popular models of smart phones and tablets on the market. This product uses a really smart combination of factors including voltage and engine electrical noise to decide when to turn on and when to turn off. When it is turned off, it will not discharge your battery because it draws less than 0.0001 Amp of current. It has a green LED to tell you when it is running. The emergency override is easy to use too. Just press and hold the big red button for 10 seconds and the charge ports turn on even if the vehicle is off.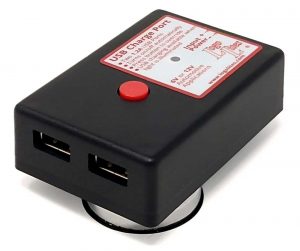 Logo Lites USB Charge Port is easy to install in just about any antique vehicle with two mounting screws or the new magnetic mount and just two wires to connect to the electrical system. For Model A Ford owners, it mounts directly to an A-Plate. Using an A-Plate, the USB Charge Port installs and is ready to use in just a few minutes with no hassles. Even better, putting your USB Charge Port on an A-Plate puts your charging ports in a hidden but easy to get to place.
If you drive your antique car, truck, or military vehicle and want the modern conveniences like charging your cell phone or using GPS navigation, then the Logo Lites USB Charge Port is a must-have product. Don't delay, order your USB Charge Port today!
Order Online
Highlights
Specs
Videos
Manuals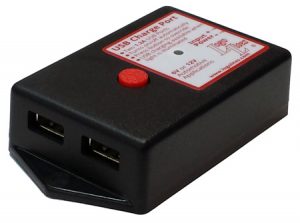 Order Logo Lites Automatic USB Charge Port
Screw Mount
Price: $89.95
Description: One USB Charge Port, mounts with screws
Item Number: 236-617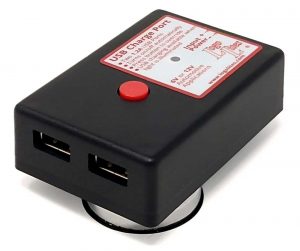 Magnet Mount
Price: $99.95
Description: One USB Charge Port, mounts with magnets
Item Number: 236-618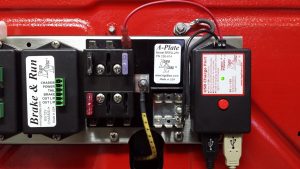 Easy installation
Two Dedicated Charge Ports
Simple two wire hookup
Compatible with all popular smart phones and tablets
Does not require permanent modifications to vehicle
Turns on and off automatically by electronically sensing the engine is running
Hardware and supply wires included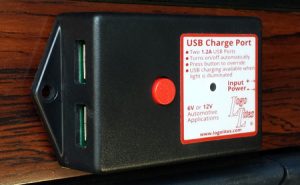 6V or 12V
Can be wired for either Positive or Negative Ground electrical systems
Two 1.2A Standard "Type A" Ports
Built-in protection for plugged-in USB devices
Size is approximately 3.9×2.1×1.0″ (~99x53x25mm)
Turns on and off automatically by electronically sensing the engine is running
This product will NOT turn on and off automatically on an 8V electrical system.

Prop 65 Warning