Installation Video – USB Charge Port on Model A Ford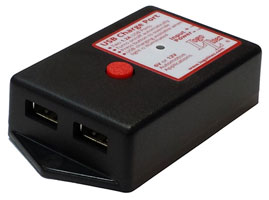 Watch the installation of a 6V/12V Dual 1.2A USB Charge Port that switches on and off automatically with the engine. Great for antiques, this product works on positive and negative ground vehicles. The 2 wire installation is easy and it works with all popular cell phones, tablets, GPS, and other USB powered devices.
See the simple 2 wire hookup of USB Charge Port on an A-Plate™
Demonstration of manual control of the USB Charge Port with the engine off
See the automatic mode in action. Watch how the USB Charge Port automatically turns on when the engine starts and turns off after the motor is shut off
Watch the simple steps to install the USB Charge Port
Easy 2 wire installation
Two Dedicated Charge Ports
Compatible with all popular smart phones and tablets
Does not require permanent modifications to vehicle
Turns on and off automatically by electronically sensing the engine is running
Hardware and supply wires included
Made in USA, Logo Lites products look sharp on antique cars and trucks. They are easy to install. Make sure to add the modern convenience of an automatic USB Charge Port to your vintage vehicle by ordering Logo Lites products today!