New Product – A-Plate for 1928-1929

Logo Lites® proudly announces the availability of A-Plate™ for 1928 and 1929 Model A Fords. A-Plate bolts onto your Model A with no modifications. A-Plate gives you 6 fuses, 12 chassis connections, and a place to mount other products like Brake & Run, USB Charge Port, and LED Extender. A-Plate works on 6V & 12V negative and positive ground electrical systems. Installation is quick and easy.
See our A-Plate product page for highlights, specifications, manuals, and to order online.
Although the new 1928 – 1929 version of the A-Plate looks different from the 1930 – 1931 version, the installation is essentially the same.

See just how easy it is to install fuses and electronics in a Model A Ford with the A-Plate!
The kit contains these parts and makes A-Plate Installation easy: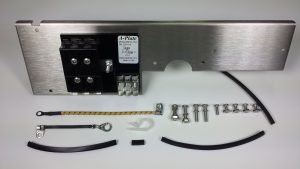 Logo Lites products look great on antique cars and trucks. They are easy to install. Make sure to add safety to your vintage vehicle by ordering your own Logo Lites products today!