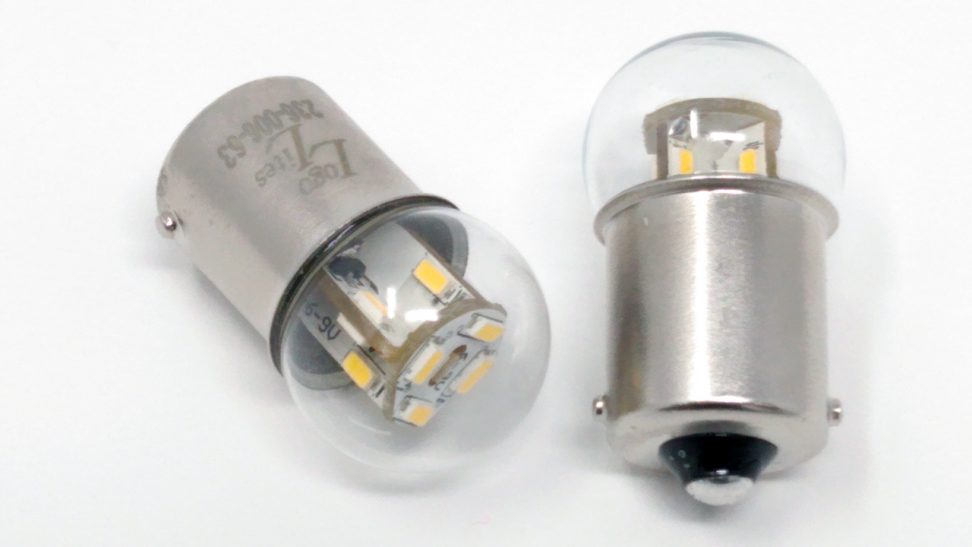 Logo Lites™ now offers LED light bulbs for antique vehicles with 6 Volt positive or negative ground. These LED light bulbs fit into the original bulb sockets with no modifications to your antique car or truck. Our LED light bulbs draw significantly less current than incandescent or halogen bulbs. Your dim old bulbs are easily replaced with Logo Lites bright white, long lasting LED light bulbs in seconds.
See our LED Bulbs product page for details or to order online.
Logo Lites LED light bulbs fit cars and trucks using #63 and #1129 type 6V, single filament incandescent bulbs. In addition to Model A Fords, these common bulb numbers are used in many antique vehicles, with 6V electrical systems. The two LED bulb types Logo Lites now offers are typically used for:
brake lights
cowl lights
parking lights
running lights
tag lights
dash lights
instrument lights
dome lights
Logo Lites products look great on antique cars and trucks. They are easy to install. Make sure to add safety to your vintage vehicle by ordering your own Logo Lites products today!